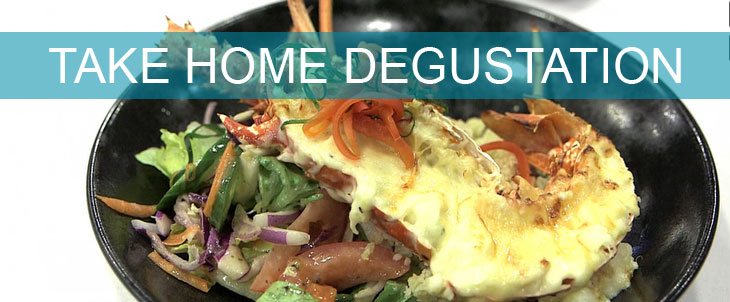 22 September 2021
COOK YOURSELF FOUR COURSES DEGUSTATION
The degustation nights are and will always be an extremely important highlight from my perspective.
I have been thinking – how can we make life a little more normal again for all of us?
What about a degustation night?

Yes, a degustation night. We will be having a four-course degustation on 24th September and we anticipate the format will be:
Shane [our head chef] will prepare and portion a four-course meal consisting off:
The Menu is below.
We will have all the instructions and preparations professional filmed for you can access via a link which will be sent to you.
At your convenience, you can access the preparation and instructions and start having a great time.
Just as an idea- what about a zoom degustation with your friends and families?
Nicole, Shane and I will judge what we consider to be the best zoomed degustation. We will be looking for: best dressed, best atmosphere, best presented etc, and the winner will receive a Lakeside gift voucher to the value of $150.00.
Please note that your order must be in no later than Thursday 2pm. [23/09/21] and collection can be from 4pm on Friday and all-day Saturday.
Warm regards,
The Team at Lakeside
MENU:
Canapes
Coconut prawns
with a mango salsa
Semi dried tomato & bocconcini arancini
with tomato, basil sauce
Entrees
Pork belly & seared scallops
with beetroot & spicy plum reduction


Coconut crab cake
with Asian salad
Mains
Eye fillet & grilled king prawns
with caramelized onion & garlic sauce, mash & vegetable parcel


Half lobster mornay
with lemon thyme cous cous & salad
Desserts
Lemon & passionfruit meringue
curd & fresh fruits


Chocolate & raspberry tort
whipped cream & berry coulis
The above menu is designed for two people however, should you require it for one only this can be arranged.
Pricing
$85.00 per person - food only or
$139.00 per person with a bottle of either Petersons Chardonnay or Petersons Cabernet Sauvignon.