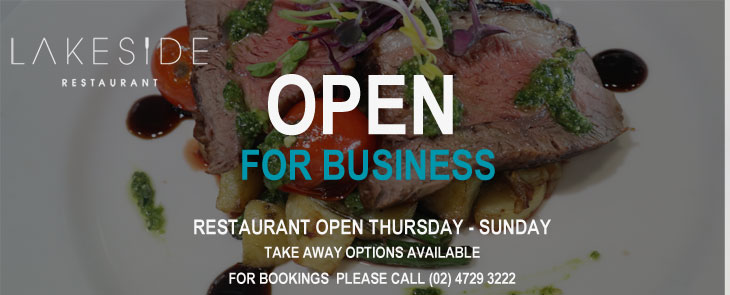 20 March 2020
LAKESIDE RESTAURANT IS OPEN FOR BUSINESS!
At Lakeside we have always kept the health and safety of our customers at the front of our minds. During these times, we have created even stricter health & hygiene measures to ensure our patrons enjoy a fantastic dining experience whilst remaining healthy.
They are:
» Regular sanitising

» Reduced number of patrons

» Increased Table Spacing to ensure privacy and social distancing
Please be rest assured we continue to practice our highest levels of hygiene and always expect this of our staff to keep everyone safe.
Due to social distancing we have decided to take a limited bookings so please call us to ensure we can reserve you a table.
We understand these times bring on some uncertainty, but we can assure you that we are doing everything we can to ensure your health remains in tact.
SPECIAL WEEKLY MENU
We will be introducing special weekly menu at special prices:
» 3 courses $55.00 pp

» 2 courses $40.00 pp

TAKEAWAY AT LAKESIDE
Also for the first time, Lakeside will be offering it menu for takeaway [collections only].
PRIVATE FUNCTIONS
We have reduced our limit's on private functions, with the minimum number of guests being reduced to 30 guests [in place of 50] and we have also waived the room hire fee.
We have had a number of big sporting events which have been cancelled, which means we will be available to host your event/function.
And please remember, Lakeside is one of many local restaurants.
Please support the locals and we will still be here when this is all over.

So come and join us for a night out, enjoy our amazing food, friendly service and a fantastic atmosphere.
Book Now: 02 4729 3222