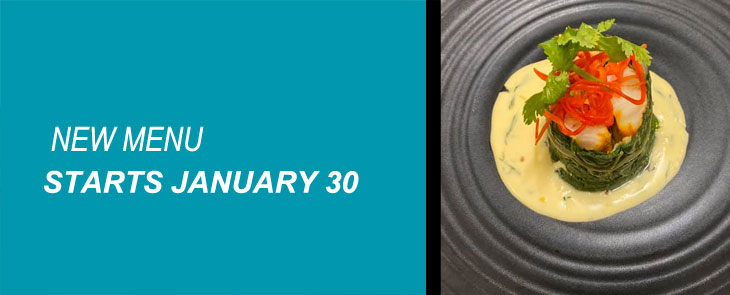 29 January 2020
New Year - New Menu!
The team have been working hard to develop our new exciting menu which launches Jan 30.
Look forward to seeing you at the restaurant shortly.
BREADS (for 2)
GARLIC BREAD
Drizzled with olive oil, sliced garlic,
shredded basil & mozzarella cheese 10
BRUSCHETTA
Grilled ciabatta brushed with olive oil & salsa verde topped with a tomato,
spanish onion & basil salsa, drizzled with a balsamic reduction 12
WOOD FIRED CIABATTA
Served with a selection of premium olive oils,
balsamic vinegars & warm olives 14
ENTREES
SIZZLING GARLIC PRAWNS

Cooked in cast iron pot with olive oil, garlic, basil &
a touch of napoletana sauce with crisp ciabatta bread 23
VEAL TONNATO

Delicate slices of tender veal on rocket salad
with tangy tuna dressing & shaved parmesan 23
FRITTATA MISTA

A collection of assorted seafood including fish, prawns & squid-flash
fried in house seasoning & a lemon & garlic aioli 23
JALAPENO PEPPERS

Peppers filled with chicken, corn & cream cheese
wrapped in bacon on corn salsa & ranch dipping sauce 21
SMOKED SALMON SALAD
Smoked salmon with cos lettuce, onion, toasted almonds,
seared fennel & peaches topped with a creamy dill dressing 23
GRILLED SCAMPI
New Zealand scampi lightly grilled with chilli, ginger,
coriander & lime zest infused olive oil 30
ANTIPASTO FOR 2
A collection of Italian salami, prosciutto, mortadella,
provolone cheese, warm olives, roasted capsicum & tomatoes, anchovies,
rocket, giardineiera & warm ciabatta bread 42
SYDNEY ROCK OYSTERS
Premium A grade oysters
Natrual 23/38 , Kilpatrick or Rockefeller 25/42
PASTA & RISOTTO
PUMPKIN & RICOTTA GNOCCHI
Served with herb oil, seared cherry tomatoes & sprinkled with
buffalo mozzarella & crispy prosciutto on a bed of rocket 23/30
KUMARA & PROVOLONE RAVIOLI

Light fluffy pillows of ravioli sautéed with olive oil, semi dried tomatoes, pine nuts,
onion, basil & a touch of napoletana sauce finished with parmesan curls 24/32
RISOTTO

Pan fried arborio rice with creamy lemon scallops, mediterranean herbs,
shaved onions, baby spinach & toasted almonds 34
FETTUCINE CALABRESE

Pan fried fettucine served with Italian sausage, roasted red peppers,
a touch of chilli, onions & fennel in a napoletana sauce 32
FRUTTI DI MARE
Black angel hair pasta tossed with daily selection of seafood, garlic, chilli,
olive oil, fresh tomato, basil & touch of lemon juice 36
MAINS
All mains will come with the chef 's collection of daily seasonal vegetables.
FISH OF THE DAY

Please check with wait staff for the daily selection & price
TUSCAN PORK BELLY

Crispy pork belly roasted with garlic, rosemary, sage, fennel & other in house
flavours with deglazed creamy sauce on potato gremolata & seared fennel 36
VEAL CUTLET

250 gram herb & parmesan crumbed veal cutlet drizzled
with a lemon & olive oil sauce on mash & side salad 36
CHICKEN BRASATO

Chicken breast supreme braised in a napoletana sauce, fresh herbs,
olives, wood fired peppers & jalapenos served on polenta 36
LAMB RUMP

Marinated for 24 hours in garlic, rosemary, lemon zest, olive oil & honey
then cooked to your liking and drizzled with salsa verde on roasted chats
& cherry tomatoes 38
PROSCIUTTO & SAGE DUCK

Grilled duck breast supreme on roasted spring vegetables,
citrus balsamic reduction & peach compote 38
EYE FILLET STEAK

[MS2] 250-gram grain fed centre cut tenderloin eye fillet, topped with
grilled king prawn & a Diane sauce 45
SEAFOOD PLATTER FOR 2

Grilled fish of the day, ½ doz Rockefeller oysters, morton bay bugs,
grilled king prawns, salt & pepper squid, mussels, octopus, scallops, prawns,
smoked salmon, assorted dipping sauces & basket of chips 138

DESSERT
All desserts 15
ASSORTED ITALIAN GELATO
CHOCOLATE FUDGE ZEPPOLE
(Cooked to order)


Pastry rolled in cinnamon sugar filled with warm Nutella fudge
on a hazelnut & crespelle crumble with gelato



VANILLA BEAN PANNA COTTA

With Morello cherry coulis
LIMONCELLO RICOTTA CAKE

Lemon curd, toasted almonds, whipped cream & fresh berries
STRAWBERRY & COINTREAU CREPES

Warm crepes with fresh strawberries, cointreau sauce with vanilla bean gelato
APPLE & WALNUT SLICE

Layers of buttered filo pastry, apple, walnuts, cinnamon,
nutmeg & custard served warm with gelato